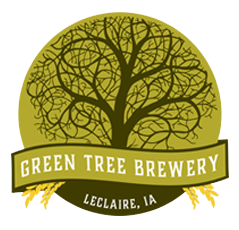 Location:
Le Claire, IA
Project Summary:
Owners Dr. Richard Day and his wife, Denise are offering a wide variety of craft brews including a Blonde, IPA, Hefe, Stout, and Coffee Stout. The brewery is located at 309 North Cody Road in LeClaire and features large windows overlooking the Mississippi as well as an outdoor patio. The tap room offers growlers to go in addition to pints and flights of brews.

Crawford Brewing Equipment worked with Green Tree from concept to completion. Crawford provided the brewhouse, hot liquor tank, cold liquor tank, (4) 15BBL fermenters, and installation of this system. Crawford provided drawings, design, layout, installation, and commissioning of the system.

Green Tree Brewery opened in early August 2015 and has already become a popular gathering spot for LeClaire tourists and locals alike.

About:
Green Tree Brewery is the latest addition to a revitalized and emerging historic river town along the banks of the Mississippi River. LeClaire, IA, is home to restaurants, shops, a winery, distillery, the "American Pickers", and now craft brews. The brewery is named after a 225-year-old giant elm that was a landmark in the town with a 100-foot canopy and height of more than 50 feet. Many river pilots, townsfolk, and even native Buffalo Bill Cody were known to have frequently visited the tree that provided shade and refuge along the river front.