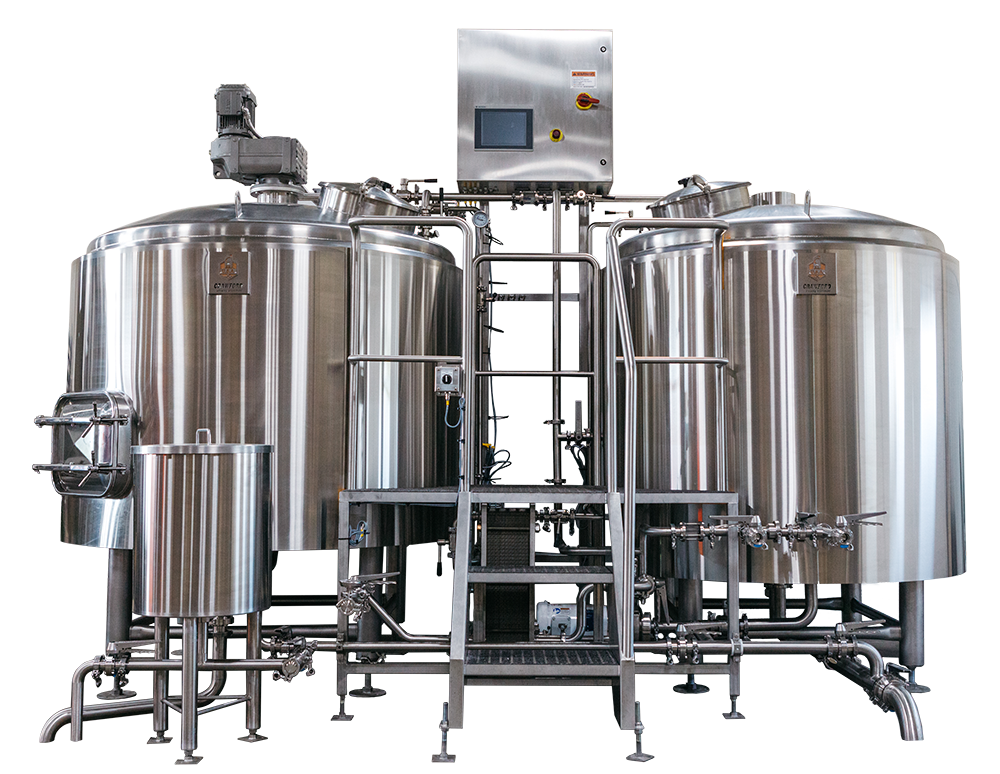 30 BBL Steam Fired Brewhouse
Our 30 BBL steam fired brewhouse is a great choice for large brewpubs and packaging microbreweries. This brewhouse is fully customizable to meet your production needs. We can add total automation, different sizes of HLT and CLT, and fermenters of any size to accommodate the number of turns you want to complete per day. Looking for something bigger? Crawford Brewing Equipment can custom build production brewhouses up to 320 BBLS.
Request a Quote
30 BBL Steam Fired Brewhouse Includes:
Large Batch Brewhouse
Grant/Hop Back
Brewers Platform
Control Panel
Complete Automation Available
2 – 5 Vessel Configurations Available
30 BBL Steam Fired Brewhouse Specifications:
30 Barrel Brewhouse: High Volume Brewing, Built for You
We're extremely proud of our 30 barrel offering. It offers our customers the best in quality with the highest yield. Expert craftsmanship goes into every component of our brewhouse. Ask about custom configurations including up to 5 vessels, dual stream setups, and total automation.
Large Batch Brewhouse
Our standard 30 barrel brewhouse includes a 30 barrel steam fired brew kettle matched up with a 60 barrel hot liquor tank and 30 barrel mash tun. The brew kettle has a tangential side port for whirlpool following the boil. The vessels are oversized so the brewer can deliver a full 30 barrels of wort to the fermentation vessels. Stainless steel dimple jackets are utilized on the vessels to maximize steam energy transfer into the wort, decreasing wait time before boiling. All three vessels are fitted with internal clean in place (CIP) ball system.
All pumps, valves, heat exchanger, and process piping are included to provide a complete system.
Grant/Hop Back
Our 25 gallon grant/hop back provides an accessible location to take wort samples during the lautering process. The grant is also used by many brewers to dry hop their wort after the boil is complete. High and low level sensors inside the vessel control the main transfer pump to maintain the correct flow in the lautering process. The grant/hop back has a removable wedge wire false bottom for easy cleaning and sanitation.
Brewers Platform
The brewer's platform is custom fitted to match each brewhouse system. Made from a perforated, non-slip fiberglass material the brewing platform allows the brewer easy access to the control panel and manways on top of the vessels. The brewhouse system has been designed to minimize elevation and only requires three steps from ground to top of platform.
Control Panel
The brewing control panel allows the brewer to set HLT temperature setpoint and monitor mash tun and brew kettle temperatures. Transfer pump mode and speed are also controlled at the panel. Each control panel is built in the USA, prewired and tested in our shop, and is UL listed for the specific job location.