Location:
Seward, NE
Project Summary:
Crawford Brewing Equipment designed, fabricated and installed the system for Bottle Rocket Brewing (Seward, NE). The system included: 15BBL brewhouse with touch screen HMI controls, (8) 30BBL unitanks, and (1) 30BBL hot liquor tank. Additional system options included: G&D 7x7 dual stage chiller and Weil-McLain 780 boiler. Crawford also engineered the steam and glycol piping and provided installation.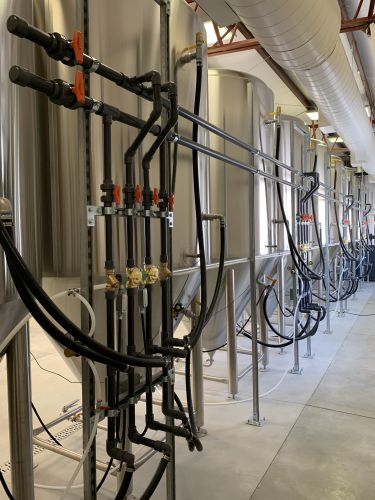 Client Experience
About:
In 2014, Gerald Homp had the idea to start a brewery in his home town of Seward, Nebraska. He approached Jason Berry and Ryan Koch about helping him as Vice President and Brew Master. The Bottle Rocket Boys were formed.
In the following year they created business plans, found property and submitted the paperwork to the TTB and NLCC. On October 23rd of 2015 they opened the doors to Bottle Rocket Brewing Company.
Their historic grain mill building was originally built in the 1940's. It was built as a seed grain cleaning and processing mill. In the 1980's it was turned into a flower shop that functioned until the brewery bought it in 2014. The original mill building features the original grain elevators, grain hoppers and Fairbanks-Morse scale. They added an event space onto the back side of the building and created a beer garden on the front side making Bottle Rocket Brewing a one of a kind location for drinking great craft beer. In 2020, they expanded the brewery to an adjacent building and introduced packaged beer which they distribute.